We value our clients and as such we want to reward you. Whether you're an Architect, Housing developer or fellow Energy assessor we want to thank you for your continuous support. Our Loyalty scheme does just that, use our Air Testing services and get all the benefits.
The Basics
Book our air tightness testing services 10 times

Qualify for your first free test

Claim your free Air Tightness test at any time

Once you've claimed your test, the loyalty scheme will restart!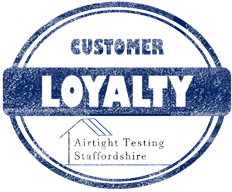 If you have multiple houses tested on the same site and day, this is declared as one booking.
Important Information
Your free air test can only be claimed on a domestic dwelling based within the United Kingdom. 

You can claim your free air test on a booking with multiple plots, in this case, the full price of the first house is deducted and you are only charged the discounted rate for additional houses. 
Join us today to be apart of our growing loyalty scheme!